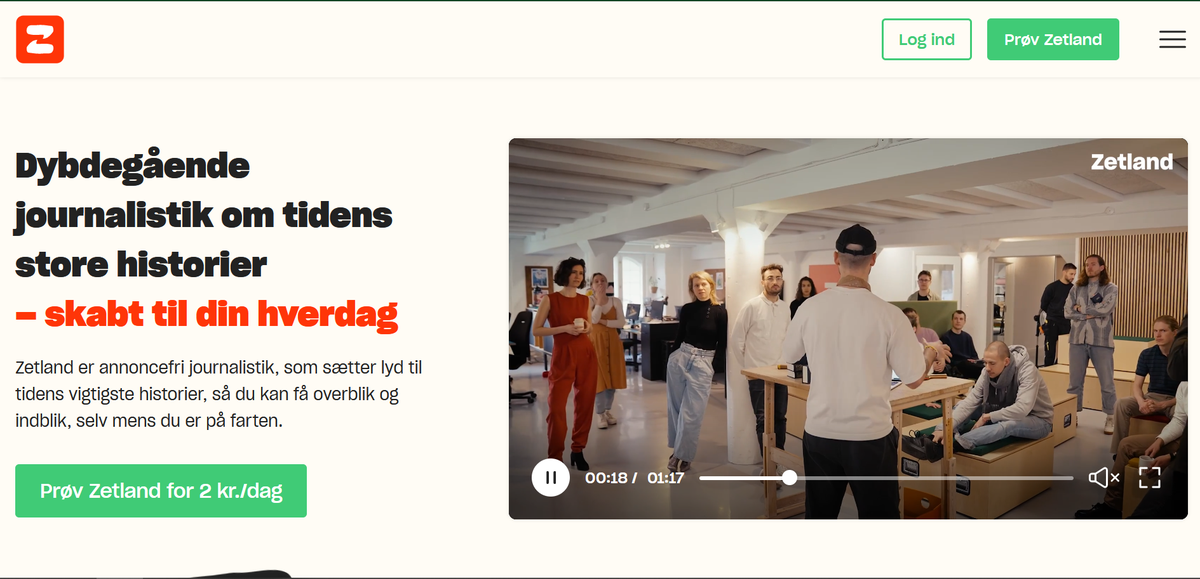 Zetland publishes three or four news stories daily, characterised by in-depth reporting and long-form pieces. As the website says: "We don't just tell you that something is happening, but also why it happens and what it means." Its approach is more constructive than critical, based on the idea that journalism is an active shaper of society.
As an organisation, Zetland is actively interested in strengthening the trust between journalists and the public. Denmark is not a particularly politically polarised country; the erosion of trust is more a consequence of the habits of the fast-paced news industry in general.
While Zetland journalists can write about any topic, the team has recurring coverage on technology and the internet. As one of the few news media, the newsroom has reported on the influence of foreign market actors on the Danish internet infrastructure and Danish politicians' use of marketing channels on Facebook. As such, Zetland's team publishes national and international stories.
In 2019 they launched an ambassador campaign among their members with the aim to grow their membership and become financially sustainable. With 4,000 members campaigning voluntarily the goal was reached within a month. Zetland's primary revenue comes from membership subscriptions; its main platform is its mobile app, not the website.
This year, they developed Good Tape, a secure transcription service for journalists (and others) that turns audio into text – regardless of language. "We've saved hundreds of boring hours at @Zetland, so we thought you'd might like as well :)" writes co-founder and editor-in-chief of Zetland Lea Korsgaard on her Twitter.
Last updated: January 2023