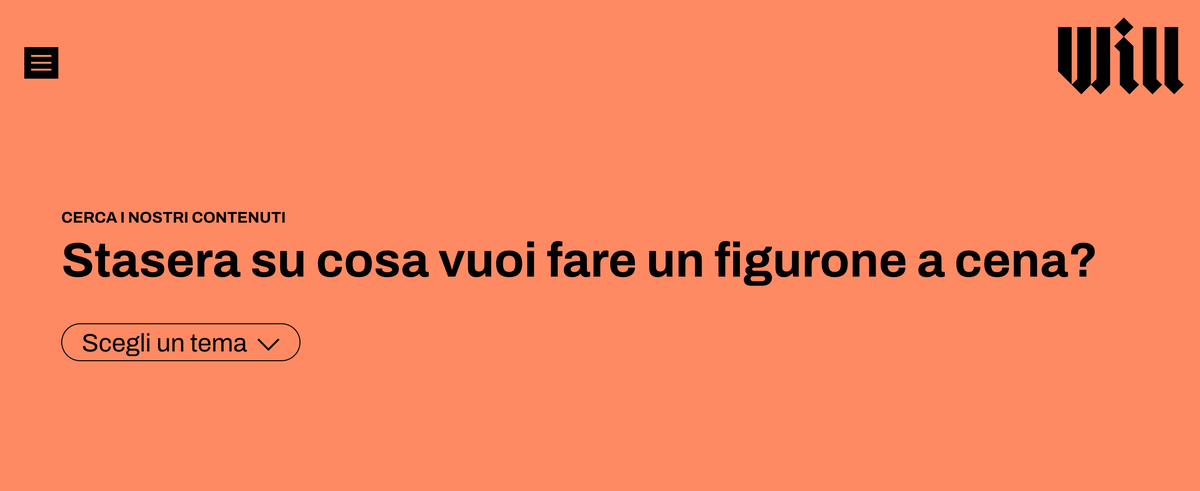 Will aims to address topics such as innovation, human rights, and ecological transition using explanatory journalism. In order to reach and engage a growing community, it has developed a multifaceted digital strategy.
First, it publishes daily social media native ("snackable") content on Instagram, Facebook, and TikTok. Instagram is currently the most relevant channel, with over one million followers. Second, it produces many different podcasts ranging from comedy to politics. Third, it publishes video explainers and short documentaries on YouTube. Fourth, it has a website divided into three sections: corporate data, stand-alone projects such as Back to the future, and a search engine to explore its multichannel content by topic. Fifth, it has a weekly newsletter called Loop, analysing one topic in 12 scrolls. Finally, it has developed a specific content strategy for Telegram based on an evening news review of significant events. During the first months of the Russian invasion of Ukraine in 2022, this channel recorded a remarkable growth from 4,000 to 50,000 followers.
Will's primary source of revenue is sponsored content. Editor-in-chief Francesco Zaffarano explains: "It is not product placement. After designing an editorial campaign, we seek sponsors who share our values." Its secondary source of revenue is content creation for TV channels and other media.
Its name, Will, represents its forward-looking attitude (will as a verb) and its ambition to involve the readers (Will as a proper name). In July 2022, Chora media group acquired the media organisation.
Last updated: January 2023
Since this profile's last update Will's team has grown and incorporated new members. The outlet's
co-founder and CEO Alessandro Tommasi has been substituted by former head of strategy and chief revenue officer Riccardo Haupt, and the team has also grown from 35 to 48 staffers, with business and development staff doubled (from three to six people). In September 2023 Will also launched its membership model.