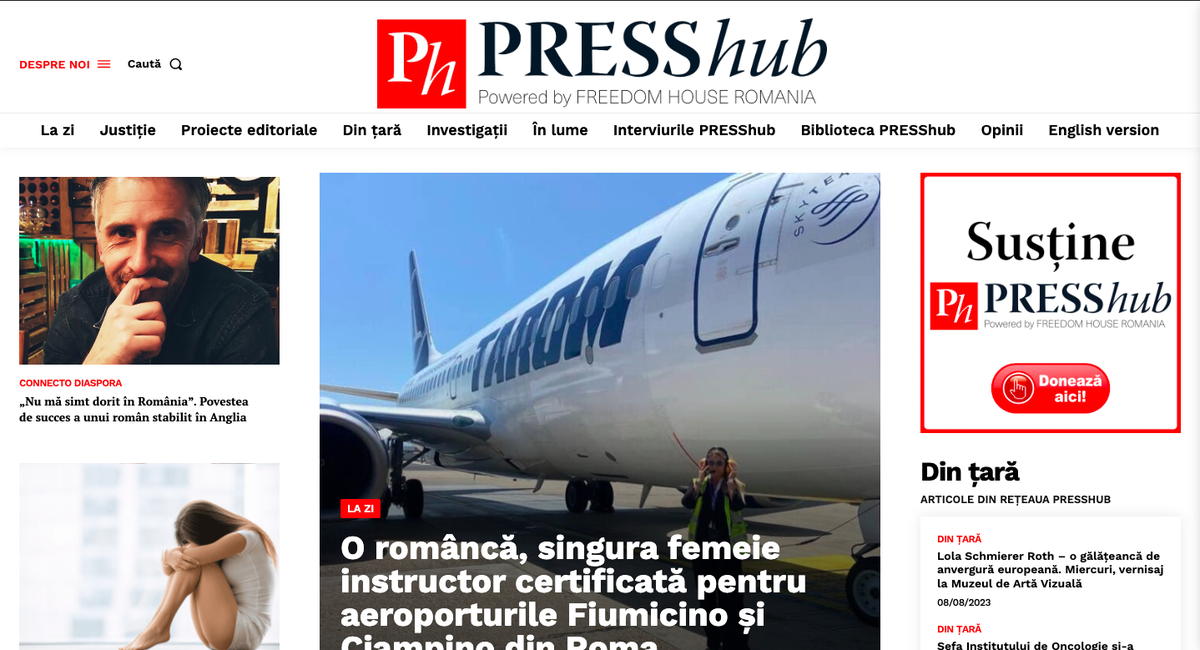 PRESShub (presshub.ro) aims to be a pivotal centre for journalists and to contribute to the highest standards of reporting, through training and mentoring digital and investigative journalists , disseminating local reporting at a national level and providing the go-to platform for contemporary skilled professionalisation of the journalism community.
PRESShub is today the most widespread press network in Romania, covering over 70% of the country. It initially brought together 20 publications, increasing to 38 local and national independent publications in 2022. Its total audience exceeds 4.5 million monthly online readers, with over 30 million views every month.
PRESShub has established itself as a hub for high-quality journalism, capable of fulfilling its social mission through a constructive, balanced and explanatory take on journalism.
In acknowledging the dire situation of local media, PRESShub has constantly sought to (re)populate local and regional media deserts with a type of journalism that goes back to its roots. It has empowered local media outlets to produce independent content, focused on their readers' informational needs through local news coverage. Its model relies on the power of exposure — bringing local issues to national attention, to increase political pressure as a means to an end: solving community problems.
Over the past five years, PRESShub's focus has been ever-expanding, covering a plethora of thorny issues. It has published articles about human rights protection, in projects such as the Stop Human Trafficking Awareness Campaign or Journalists against Organized Crime. It has also focused on anti-corruption and good governance, investigative journalism and the protection of democracy. It is interested in fighting against fake news, propaganda and disinformation in the media and social media. Over the years, it has published projects including Fact not Fake, The Lie Detector and No Hate. PRESShub has dedicated a section to the Romanian diaspora, PRESShub has dedicated a section to the Romanian diaspora, meant to show that consolidated democracies allow people free expression.
Throughout the years, PRESShub has benefited from grants which have enabled its growth, from a wide variety of financing organisations. Ranging from the European Commission to embassies from various countries, PRESShub has benefited from a high degree of trust, never failing to deliver on its promise: returning journalism to its rightful mission as an essential public good.
The PRESShub network includes: Argeșul Online (Arges), Argessport.ro (Arg), Arad24, Atlatszo Erdely, Banatul Azi (Timișoara), Bihoreanul (Bihor), Crișana (Bihor), Curierul Național (Național), De Braila (Braila), Express de Banat (Caraf-Severin), Epoch Times Romania (București), Gazeta de Dimineața (Hunedoara), Gazeta de Stâ1peni (Arg), Hunedoara Mea (Hunedoara), Info Sud-Est (Constanta), Jurnalul de Argeș (Argeș), Jurnalul Prahovean (Prahova), Știri Actuale (Prahova), Mesagerul de Sibiu (Sibiu), Money Buzz (București), Monitorul de Botoșani (Botoșani), Monitorul de Cluj (Cluj), Monitorul de Mediaș (Sibiu), Năsăudeanul (Bistrita-Năsăud), Oradea Press (Bihor), Ordinea.ro (Constanța), Oglinda de Azi (Prahova), Reper Media (Argeș), Reporter24 (Olt), ReporterlS (lași), Revista 22 (București), Sud Vest (Gorj), Stiri Craiova (Dolj), Transilvania Reporter (Cluj), Viața Liberă (Galați), Vrancea24 (Vrancea), Ziarul de lași (lași), 7zile.info (Bistrita-Nasaud).
Last updated: October 2023