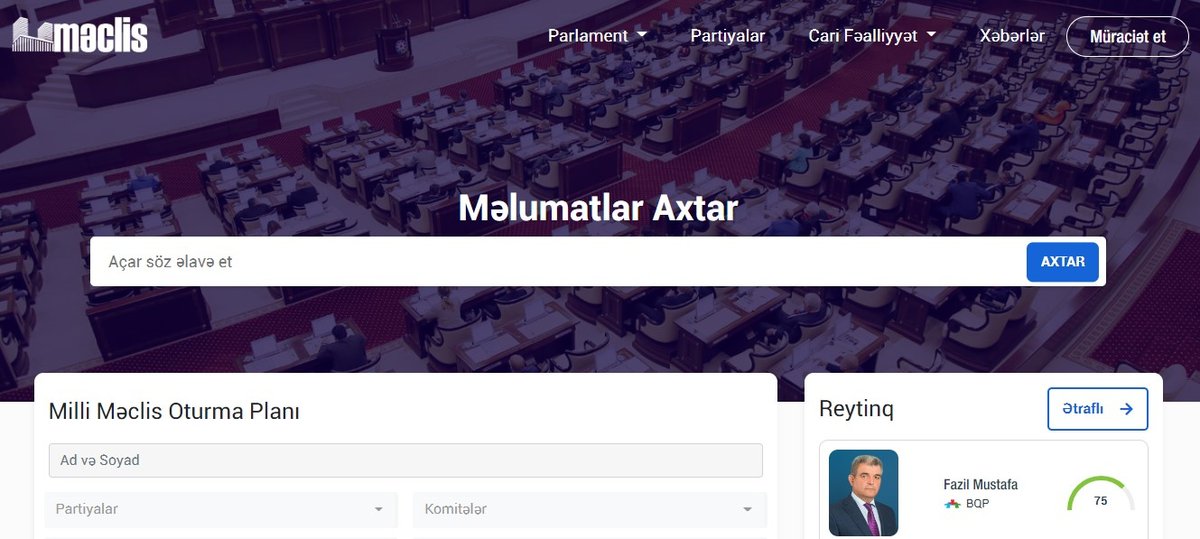 The non-profit media organisation Meclis.info started operating in Baku in 2020. According to the founder, Imran Hasanov, the platform was created to acquaint the Azerbaijani public and citizens with the draft laws discussed in the Milli Majlis, the Armenian parliament. It aims to increase public participation in parliamentary activities and to contribute to a more accountable and transparent activity related to the legislative process.
The platform publishes all the information related to the members of the parliament in an index showing their profile, including gender, political affiliation, age, participation, topics, and their activity in the parliament. Bills discussed in committees and plenary sessions are explained to citizens in simple language, and Meclis.info publishes independent opinions on them.
Meclis.info pays particular attention to increasing the political participation of the young generation and educating them about the work of the parliament. The organisation's social media channel with the largest audience is TikTok, with more than 30,000 followers.
According to Hasanov, the initiative to create the platform came up after the parliamentary elections held in Azerbaijan in 2020. Unlike Azerbaijan, neighbouring countries had an independent media organisation covering the parliament's activity. Besides, the 2020 parliamentary elections were more active in Azerbaijan than in other years. Both things led him to create the platform. "It was born out of necessity," Hasanov says.
The website operates only in Azerbaijani; however, articles with potential interest for a foreign audience are translated into English. In the future, Meclis.info's team intends to implement a system of individual donations and subscriptions.
The US Embassy in Azerbaijan supported the implementation of the media project.
Last updated: December 2022