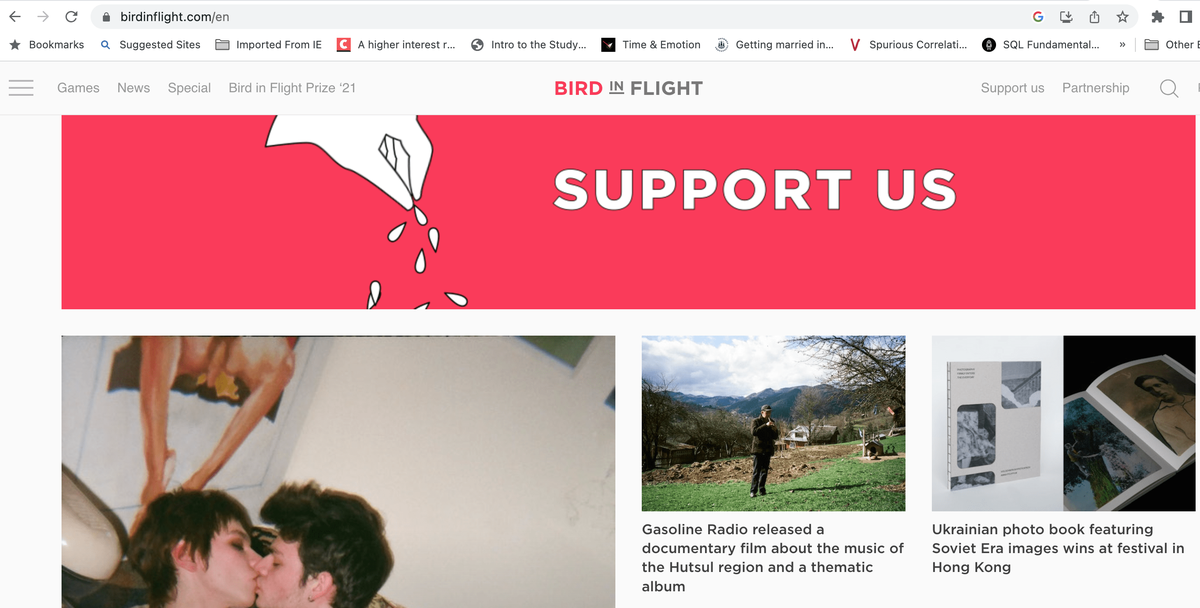 Bird in Flight is a digital native magazine about photography and visual culture. The outlet was founded in 2014 by Depositphotos, and went fully independent from September 2022.
Its mission is to reach people who enjoy discovering the world through images, as well as those who are in search of a cultural impetus. Currently, Bird in Flight focuses on several types of audience: photographers and creative people from architecture, art, design, digital marketing and advertising; young officials who are building the country; IT professionals engaged with digital photography and art professionally or as a hobby; and a younger generation in search of cultural inspiration.
Bird in Flight publishes regularly, covering the following topics: people, events, exciting projects and new trends in the photo industry and the media, as well as stories about art practitioners from all over the world working in different genres, from recognised masters to young talents. The published pieces fall under one of the following categories: art, photography, architecture, design, film and sex. From the very beginning, the outlet has experimented with a couple of formats in addition to features, photo projects and interviews, including video, infographics, ratings and games.
Since the beginning of the full-scale invasion of Ukraine by Russia, Bird in Flight has also been documenting various aspects of war — from cultural resistance, to covering heroic deeds by the population. For example, an article featuring President Zelenskyy's war attire reached over a million views, confirming the need for culturally entertaining stories during the war.
The invasion also affected the financial health of Bird in Flight, limiting its sources of financing to grants, as well as halving its revenue. The team have also organised a few side projects since then, such as the international charity event Photographers for Children, which sold works by 74 Ukrainian authors for two weeks. The €12,650 raised was donated to the foundation Smile UA in Zaporizhzhia, which takes care of families with children and orphans affected by the war.
Last updated: September 2023